Cauliflower Tabbouleh Salad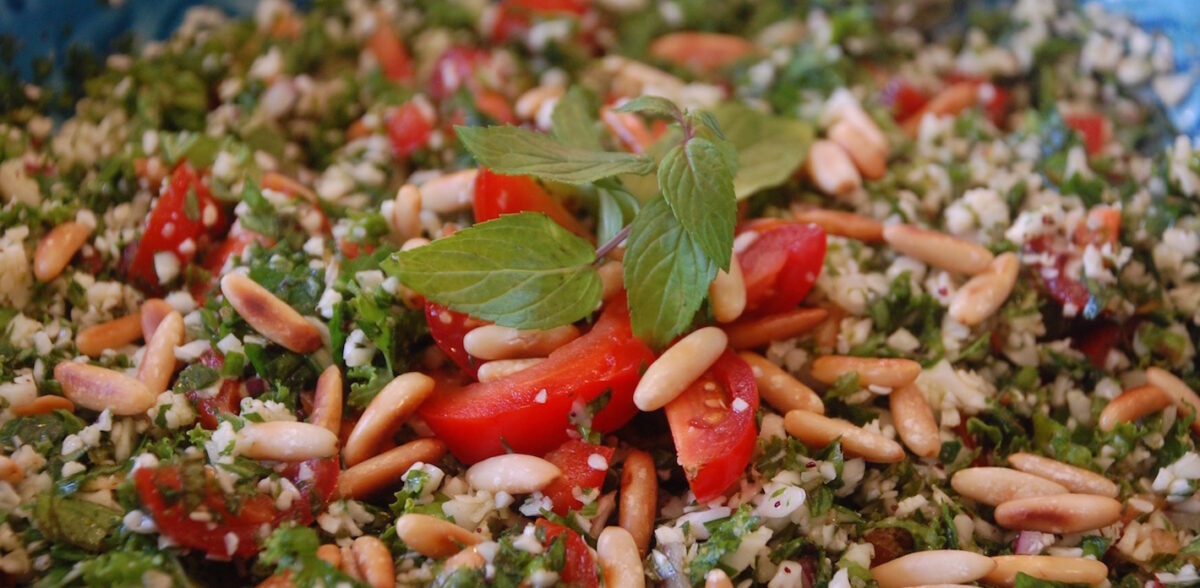 A Gluten-Free Tabbouleh Salad
Cauliflower is a magical vegetable that can be transformed into a light and nutritious substitute for rice, bulgur or couscous. This salad is perfect for a spring lunch or a festive side dish.
Serves 4
Ingredients
1 or 1/2 raw cauliflower cut into small florets
2 seeded tomatoes cut in small cubes
1 large or 2 small (Persian) cucumbers, diced
1/2 red bell pepper, diced
1/2 white onion or 3 spring onions, minced
1 cup of mint leaves, finely chopped
2 bunches of parsley, finely chopped
1/4 cup of toasted pine nuts
1 tablespoon hemp seeds
For the dressing
Juice of 1 lemon
4 to 6 tablespoon extra virgin olive oil
1 minced garlic clove
1 tablespoon of Zaatar herb/spice mix (thyme, oregano, cumin seeds, sumac, aniseed, and sea salt)
1 tablespoon of sesame seeds
Preparation
Zaatar, (meaning thyme in arabic) is the secret ingredient to make this Tabbouleh an original. The spice mixture can be prepared in advance and kept in the refrigerator for 2 weeks.
crush together all the herbs and spices (1/ 2 teaspoon of each) in a small mortar. Work in 1 tablespoon of sesame seeds with the pestle.

Put the florets in a blender or a food processor to turn the cauliflower into fine grains. Transfer to a bowl.

Add the tomatoes, cucumbers, bell pepper, onions, mint and parsley.

Stir together the Zaatar with the lemon juice, oil, and garlic.

Pour over the vegetables and mix well.

Serve with the pine nuts, toasted briefly in a skillet, and the hemp seeds.
For a richer taste and texture, you can add a handful of raisins and sprouted lentils.
Benefits
Flushing away toxins, parsley is a natural kidney cleanser. It also cleanses the palate and eliminates bad breath. It is rich in iron and vitamins K and C.
Cauliflower is also rich in vitamin C if eaten raw. It contains antioxidants to ward off certain types of cancer.
Pine nuts are a source of good fats, as well as phosphorus, magnesium, zinc, and copper.