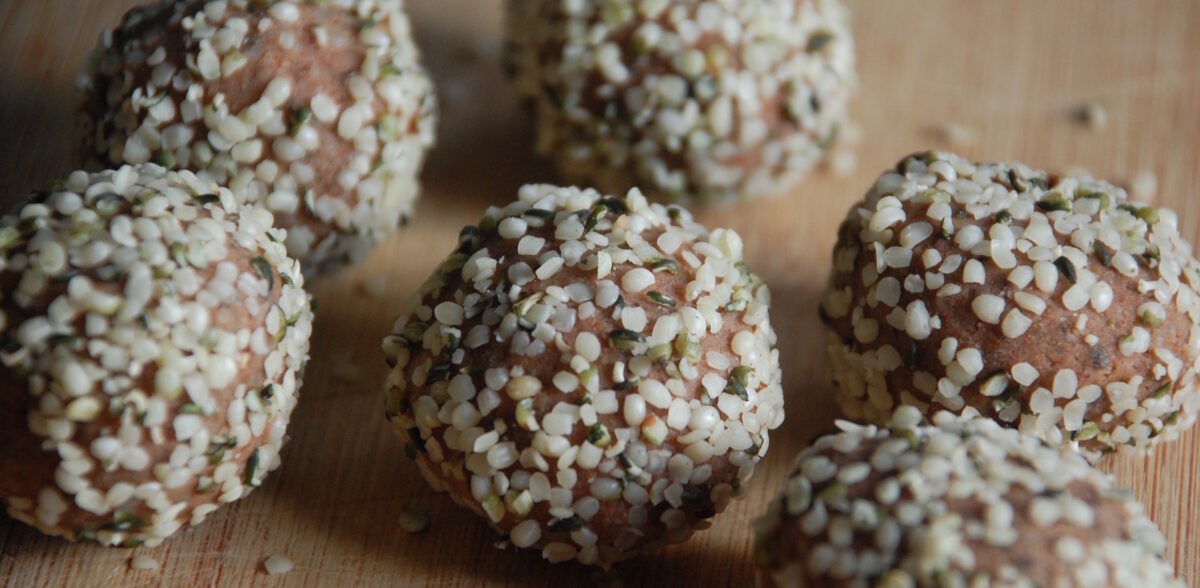 Energy balls full of protein and good fats!
My clients often ask me for recipes to satisfy a sugar craving. My teenage son wants me to buy "energy bars" that are generally expensive, full of sugar and of dubious proteins (not all proteins are equal). So here is a recipe for a quality energy snack that appeals to anyone with a sweet tooth or needing a boost.
12 truffles
Ingredients
15 large unsweetened dates (3/4 of a cup)
3/4 cup of almond meal or the pulp leftover from homemade almond milk
2 heaping tablespoons of hemp seeds
2 tablespoons of unsweetened grated coconut
1 tablespoon of chia seeds
1 tablespoon of maca powder
1 tablespoon of raw organic cacao powder
2 tablespoons of cacao butter (or, if unavailable, of coconut oil)
Preparation
Remove the pits from the dates and soak in a little water until soft, a couple of hours ahead or the night before.
Melt the cacao butter or coconut oil in a double sauce pan.
Remove the dates from the water and incorporate all the other ingredients in a food processor.  The paste should be firm enough to hold a shape but soft enough to roll into balls, add a little water from the dates if it is too dry.
Using the palm of your hand, shape into small balls.
One by one, roll the balls in a plate of grated coconut until they are covered. You may also use cacao powder, if you enjoy the bitter flavor, or hemp seeds to cover the balls.
Store on parchment paper in an airtight container (up to a week in the fridge or several months in the freezer).
Benefits
The natural sweetness of the dates balances the bitter taste of the cacao without destroying the flavor. This treat has enough protein and beneficial oils to give you a lift during an afternoon energy drop. The truffles are perfect as a snack or a quick energy booster after a workout. Check what these super foods like cacao, maca, hemp, and chia provide.