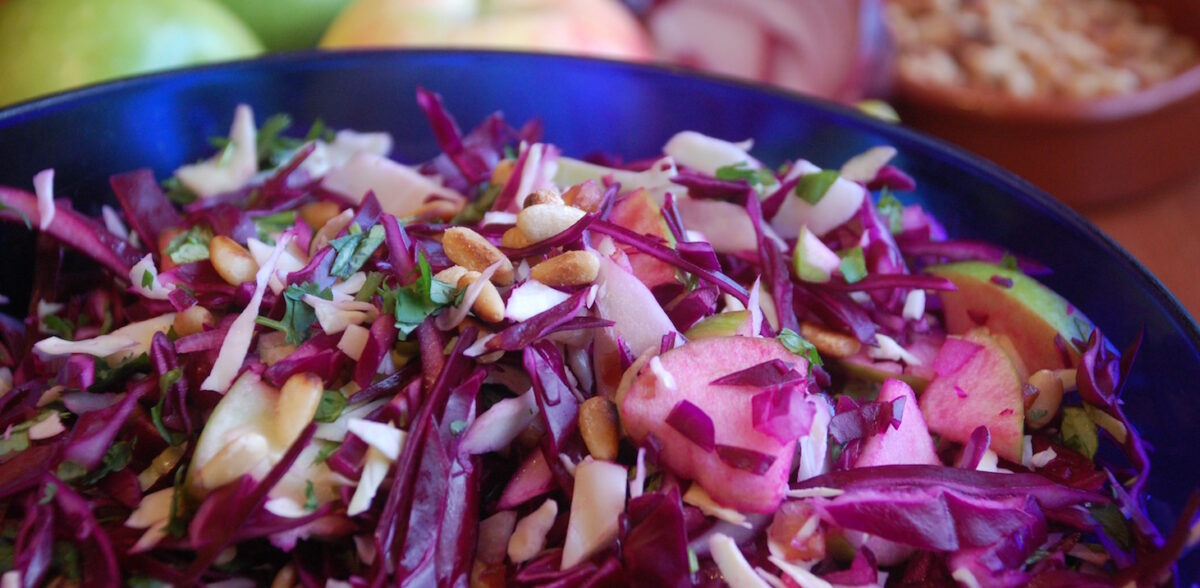 A perfect salad for year around.
Nourishing and cleansing, this complete dish is ideal for a winter detox.
Serves 2
Ingredients
1 green apple, finely sliced and soaked in lemon juice
1 cup grated red cabbage
1 cup grated green cabbage
1/3 cup of chopped cilantro
1/2 small onion, finely chopped
2 dates cut in tiny bits
1/4 cup of toasted pine nuts
1 tablespoon hemp seeds
For the dressing
1/2 tsp. raw honey
1/3 cup olive oil
1 Tbsp. apple cider vinegar
1 Tbsp grated ginger
1/2 pressed garlic clove
Salt and pepper to taste
Preparation
The best way to blend the dressing is to put all the ingredients in a Mason jar and shake it until desired consistency. Taste and add ingredients as desired.

Cut the apple in fine strips and soak in lemon juice to prevent browning.

Grate the cabbage.

Chop the onion, cilantro, and dates.

Toss all the above with the dressing.

Serve with the pine nuts, toasted briefly in a skillet, and the hemp seeds.
Benefits
Cabbage is low in calories and high in antioxidants. Red cabbage is rich in flavonoids that may help prevent certain cancers. Eaten raw, this vegetable retains all its benefits.
Pine nuts are a source of good fats, as well as phosphorus, magnesium, zinc, and copper.
The ginger and garlic in the dressing with their antibacterial and anti-inflammatory properties will help stave off winter colds.